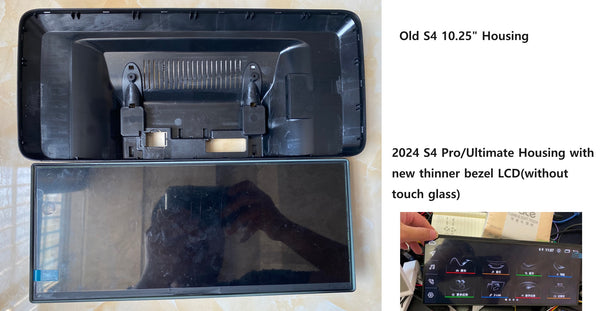 We are keep innovating!
RSNAV is expecting its S4 Pro/Ultimate series hardware upgrade around Q1, 2024 featuring:
Super Thin bezel display
Active Mic Echo Cancelling circuit
New Sound DSP Chip

Shipping Delays
For September, 2023, we are already booked with 150 orders to be produced.
DO NOT PLACE AN ORDER IF YOU CAN'T WAIT. There are average of 150 orders ahead of you and the number is not decreasing.
There is no way for us to expedite an order for any reason. Everyone wants it fast and urgerntly.
We hope your generosity on this though times.
It is strongly suggested to contact us via e-mail(info@rsnav.com and rsnav01@163.com) if you feel your previous inquiry/request is neglected. We will give you an initial response within 48 hours.
'What is rsnav01@163.com e-mail? Can I trust?'
Rsnav01@163.com is a China stationed RSNAV.com staff e-mail account and make sure this e-mail is not blocked or filtered in the spam. We are having issue with e-mail forwarding service on RSNAV.com domain, thus using external e-mail service. We are sorry for the confusion and inconvenience
RSNAV S4 Ultimate Installation Guide by Daniel Polniak
Thank Daniel for his passion for the good of Audi owners.
Looking for screen protectors for your RSNAV S4?
For customers in the America, if you are looking for the best anti-glare, anti-smear screen protector for your RSNAV S4, please visit Photodon.com their RSNAV compatible products are laser cut to fit your RSNAV screen perfectly. S3 ones are also compatible with S4.
Updated instructions for RSNAV S4 Android headunits
For wiring diagrams and extra information for other car models, please visit RSNAVWiki.com
RSNAV S3, S4 Installation Walk-through Guides (Special thanks to our enthusiast Daniel Polniak.)
S4 Video Show cases and S3 legacy instructions
Some of following videos are time indexed so you can skip to the parts that you are interested in if you watch in YouTube site.
Looking for fast help from other RSNAV users, want to help others? Please join our user community! The link to the dedicated Facebook group is in the left menu.
RSNAV.com is operated by a very small team of dedicated staff. Despite our small team, we are in the process of growing our team to be able to help you quicker and more efficiently. Due to the popularity of our products we are experiencing a growth that is proving challenging to keep up with. Please be patient as we grow to better server you in the future.
We highly recommend joining the RSNAV group in Facebook, where Daniel monitors posts and questions on a frequent basis, even when outside of his office. Being a user community, there are also a growing number of RSNAV users that are very eager to help others.
Do not message Daniel or the RSNAV page using Facebook Messenger. It is NOT monitored and questions posted through messenger will not be read or answered. Please refer to the Contact Us page for the most appropriate email address to send your questions to.
Thank you, the RSNAV team.
---
RSNAV Audi Video Interface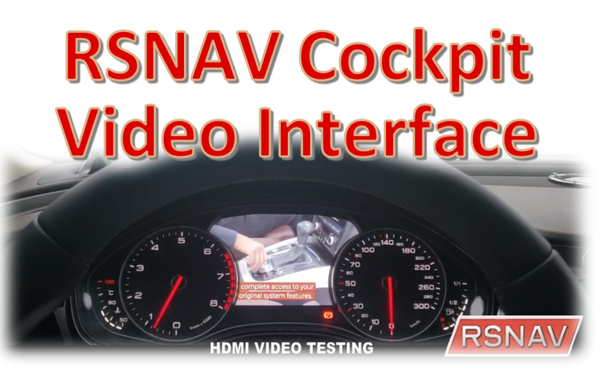 Sale price $300.00 USD
Regular price
$400.00 USD
Sale
—
Not Available
Rsnav.com reserves the right to cancel a device registration if payment is cancelled or declined after shipping its products to a customer.
For example, if you file a chargeback, RSNAV.com will cancel your device registration. This will result in the device functionality being suspended. Once the device has been suspended, Every 5 minutes, an 'inactivation warning' will appear on the screen on the affected RSNAV Android device. For Standalone devices, there will be a limited functionality until the required payment information has been provided to RSNAV.com. Rsnav.com will not reinstate any device that has not been properly and fully paid for.
There is no way to retain a fully working RSNAV device without paying for it properly and in full. Any attempt to short pay, or steal the product from RSNAV.com will be met with a quick response. We will pursue all attempts to defraud RSNAV.
DO NOT PURCHASE FROM RSNAV.COM IF YOU DO NOT AGREE OR DO NOT UNDERSTAND THE TERMS AND CONDITIONS AS DESCRIBED ON THE RSNAV.COM WEBSITE.
last revised Nov, 6th, 2022