---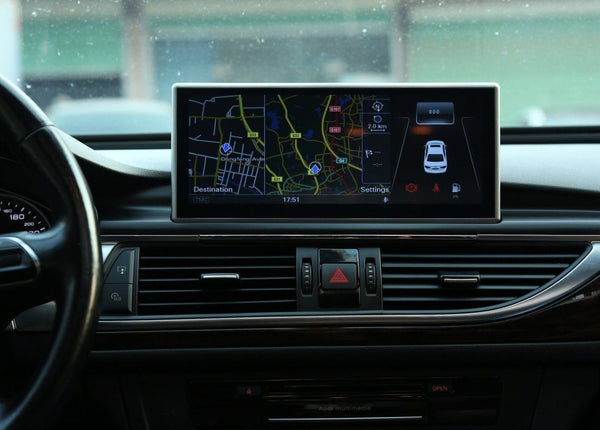 THIS IS A RESERVATION.
Expect a month or 1.5 month to receive your order.
This is only available for Left Hand Drive
* You may need Audi Aux to AMI adaptor and it is NOT included in the kit. In some cases, you need this cable to get sound from RSNAV device. You are advised to purchase it from Amazon or your local Audi dealer. 

S4 Standard:

 

Wireless/wired CarPlay, Wireless, wired Android Auto only, Linux based, No App can be installed, SD Screens(480P)
S4

 

Pro

: Full android system with HD Screens(720P)
S4

 

Ultimate

: S4 Pro + 360 degree 3D bird eye view support + 4 AHD cameras
 Comparison Chart
RSNAV S4 Standard   
RSNAV S4 Pro/Ultimate 
Memo
CPU
ARK1668 700Mhz
Snapdragon 665
RAM/ROM
1GB/2GB
8GB/128GB
OS
Linux 3.4.0
Android 10
LCD Max Brightness** Applicable only to the 10.25" panel
1000 ccd
1200 ccd
LCD resolution
1280 x 480
8.9", 10.25", 12.3": 1920 x 720
Full I2S digital Audio Circuit(analog noise insertion resisting)
No
Yes
Bluetooth 
Reserved for CarPlay and Android Auto. No BT accessory is supported
5.0/4.2 BLE with 3 different modes for every peripheral use scenario supporting police radar detector apps or any other Bluetooth serial comm. Apps.
Digital Sound output
No
Digital Coaxial (PCM), Optical Fibre(Toslink)
USB
USB 2.0(1)
USB 3.0 (1), USB 2.0(2)
CVBS, AHD 720p Camera support
No CVBS, only AHD 720p
Yes
AHD 1080p camera support
No
Yes


Wired CarPlay without accessory
Yes
Yes
Wireless CarPlay
Yes
Yes


Wireless Android Auto
Yes
Yes 


Wired Android Auto
Yes
Yes
Screen mirroring
Yes
Yes
Price
$280~300USD
$650~800USD


4G LTE Modem

Not Equipped

World Wide Modem
LTE FDD: B1/B2/B3/B4/B5/B7/B8/ B20/B28
LTE TDD:
B38/B39/B40/B41

No GPS module on standard version

DSP

24bit internal DAC
TDA7729
3 Bands EQ

Full Digital 13 bands: There is no signal processing after DAC thus even analog stereo output is just a direct product of clean digital signal




S4 standard features
- Wireless/wired CarPlay
- Wireless/ wired Android Aut

o
- Bluetooth phone call/Music streaming
- MP4 video playback
- Plug and Play 
It is Linux based, thus no Android App can be installed or run natively. 
S4 Standard cannot be upgraded to Pro or Ultimate as they are totally different hardware. Only the main wire may be compatible with Pro or Ultimate.
S4 standard no longer supports CVBS low resolution rear/front camera. It only supports AHD 720P 25Hz rear/front camera. 

Sound quality is better than our standalone smart interface kit and as good as our RSNAV S4 pro/ultimate with Rohm BU321 series DSP. Nevertheless, BU321 and TDA7729 have different characteristic. BU321 is digital audio operating based on i2s with high resolution, prominent high frequency responses.  TDA7729 is analog audio processor with profound bass.